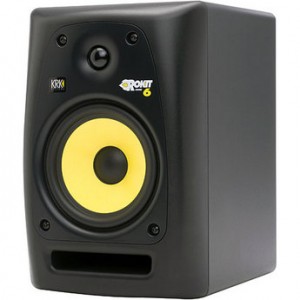 KRK is one of the leading manufacturers of studio monitors for good reason, they sound great and the KRK RoKit 6″ Two-Way Active Nearfield Monitor is no exception.
I found the best price online through this link. Offer ends 4/30/11
This speaker has a 6″ woofer with a cone made from a glass aramid composite which makes it extremely strong and minimizes distortion and 1″ tweeter made from neodymium which gives the monitor a more natural sound than metal domed tweeters.
The KRK RoKit 6 is a powered speaker with a true bi-amp system and a total output of 68W which will give you plenty of sound for your project studio.
I like the cabinet designs of the KRKs. The cabinet is solid and features a curved front baffle, a recessed high frequency wave guide and a front firing bass port. These features give you a wide sweet spot, good HF control and a clean bottom end.
The multiple input options with XLR, TRS and RCA inputs are very useful. This allows you to easily connect the monitors to any system.
Here are the features:
6″ Composite Woofer
1″ Soft Dome Tweeter
68W Total Power
XLR, TRS and RCA Inputs
HF Level Control
Front-Firing Bass Port
Wood Construction
Here are some comments from owners:
BD says:

I replaced my old Event 20/20P monitors with these speakers. I heard them at another studio and fell in love. I added an additional subwoofer to compliment the low end, but you could get away without the sub, these speakers have remarkable bass response for their size. Overall, a great buy. Can't wait to mix the next piece of music!

Review paraphrased for length see the full review here.

 

Samson says:

I use this monitor in a home studio setting, I shopped around for different monitors before buying these and for the price and the quality, KRK 6's are a must. They deliver impeccable sound that will blow you away. Make sure you have a large enough room or  feedback and bass problems may ensue. You'll be extremely happy with the product.

Review paraphrased for length see the full review here.
I have always liked the KRK sound. They are not as bright as some of the nearfields out there but they are easy to listen to for long periods of time. If you are working on music that needs a deeper low end you might want to add a subwoofer like the KRK 10s. Since the frequency response of the KRK 6 is 48Hz-20kHz.
Overall a great monitor especially for the price!
Get the best price on these great monitors here until the end of April!